Warrior of the Canyon 2017

Elko Community Art Wall,
September 2016
Ely School Anti-drug Assembly, April 2016
Wendover Walk-A-Mile-In-Her-Shoes® 2016

Summer Activities Fair 2016
Northside Fair 2016
Dylan Gaddis and Laura Oslund from PACE Coalition offered children a plant starter kit and a choice of seeds during the Early Childhood Development Awareness Fair at Northside Elementary School. Enjoy the photos!
Purple Up 2014
Purple Up 2013
We're thankful for all of the photos submitted by Purple Uppers in Northeastern Nevada and from as far as Reno. Enjoy the pictures.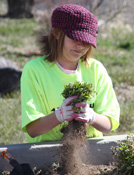 Take Pride in Your Community Clean-up/Green-up Day 2013
Every year volunteers turn out to spruce up Elko neighborhoods. This year was no exception. Here are some of them.